construction estimating software
The construction estimating process is critical to the success of every project.
Modeling the costs and productivity requirements of a construction project requires contractors to create detailed cost estimates, project and delivery schedules, and construction plans.
Many software firms have attempted to create a seamless estimating experience and provide the tools to create a comprehensive estimating and takeoff process. This guide will cover the options that are available to contractors to allow quick, precise, and accurate cost & delivery estimates for their projects.
Let's start with a brief review of the overall construction estimating, takeoff, and bidding process.
If you're an estimating professional, and you just want to see our recommendations, click here.
Understanding Construction Estimating for Contractors
Construction estimating is part of the bid process, during which contractors and builders will typically compile a group of documents, known as the bid package, which summarizes the project details and key information. These bids aggregate the costs that the contractor expects to pay for the sourcing of materials and construction of the project.
The process begins with the project owner creating the bid package.
The bid package contains all of the information the contractors will need to create an accurate cost estimate, schedule, and delivery method.
The documents included in the bid package typically include the Invitation For Bid (IFB), project blueprints, location and schedule constraints, detailed specifications of the contract, which include general standards, contract terms, insurance requirements, and other information about the bid and contract.
Traditional Bidding Process
TAKEOFF
A takeoff (sometimes referred to as material takeoff or quantity takeoff) is the first step in the bidding process. This step involves examining the blueprints and bid documents in order to extract the required materials and labor required for the project.
The information produced from the takeoff is what is used to build the cost estimate and project schedule.
For a General Contractor, some examples of takeoff items may include:
Unit counts

: E.g. Counts of light fixtures, concrete barriers, pipe fittings, doors, beams, trusses, etc. Anything that needs to be calculated in unit quantities.

Linear length

: E.g. Total lengths of cable, lumber, wiring, trim, rebar, piping, etc. Anything that needs to be calculated in lengths.

Surface area

: E.g. Counts of areas that require painting, drywall, roofing materials. Anything that needs to be calculated by its length times its width.

Cubic volume

: E.g. Concrete pours, earthworks, insulation, asphalt, etc. Anything that needs to be calculated by length times width times height.

Physical weight

: E.g. Gravel, sand, shipping requirements, waste disposal, etc. Weight calculations are often a byproduct of other takeoffs, and are useful when planning transportation and logistics.
ESTIMATE COSTS & TIMELINES
Once a takeoff has been completed, we compile the data to create the cost estimates required for materials, labour, and supplies.
The process typically follows this schedule:
Review Project Scope and Requirements

Create a project schedule with deadlines and milestones.

Identify in-house work and work that needs to be subcontracted.

Determine labour and material costs.

Include risk factors, contingencies, and profit margins.

List project inclusions and exclusions.

Submit bid to Business Development or to the client.
There are several tools available to estimators to help them build their cost estimate.
Estimating & Takeoff software

– Manual takeoffs are resource-intense and prone to error. software creates a seamless process from takeoff to bid, with minimal chance for human error and several integrated checks and balances to ensure you have completed the takeoff and estimate accurately.

Subcontractor database

– It's critical to have a good network of subcontractors that you can rely on for expertise and cost estimates. Some companies that provide takeoff software also provide a database of material pricing and general costs associated with a construction project, which can provide a helpful overview into the cost of the project before going out to source local pricing.

Pre-built estimate templates

– Pre-built templates are critical to efficient takeoff and estimating processes, and they help you capture details that the IFB may have missed. Most estimating software providers have multiple pre-built templates for GC's and larger sub-trades.

Item specifications

– Many software suites will allow you to store item specs and useful data about materials and components. The information may include things like cost to purchase, cost to install, ANSI specifications, and local distributors.
BID PROCESS
The most common way of bidding is to prepare a hard bid (AKA competitive bid, hard dollar, fixed price, and others).
The GC sources material and subcontractor pricing, and then adds costs for their own supervision, site requirements (such as offices, sanitary facilities, dumpsters), contingencies, and profit.
Contractors with the most competitive bid, along with the best strategy and history/reputation, will likely earn the work. In the case of public projects (owned by government), the contractor with the most competitive bid is required to be awarded the project by law, provided their bid fully meets the requirements of the project.
Software Tools for Estimating & Takeoff Automation
Takeoff and estimating software refers to programs that help estimators extract useful material data from blueprints and IFB files. Some software will assist with generating material cost and labour estimates.
Typically, the software will support most file types for blueprints, such as PDF, DWG, SVG, DXF, XLSX, PNG, and other types of files.
With the suite of tools offered by the software, estimators can measure, calculate, and compile information quickly with fewer errors.
Features & Functionality
TAKEOFF
Tools for Counts, Areas, Lengths, and Volumes – The essential utility of takeoff software is the ability to extract materials, quantities, and requirements from digital files supplied by the project owner.
Collaborative & Team Takeoff – Having your takeoffs and estimates synchronized to allow for collaborative work is crucial for a large team where conflicting edits may happen. Most cloud-based services offer collaborative takeoff features.
RFI Creation & Management– In the event that insufficient information has been supplied or there are conflicting requirements in the project, an RFI will need to be issued to rectify the conflict. Some programs allow you to create, store, and compare RFI's in a useful layout and dashboard.
ESTIMATING
 Activity Tracking – Knowing who did what on which bid is critical to a good estimating management process.
 Audit Trail – An audit trail is a step-by-step record which provides evidence of the history of document changes to its source and is useful to see who made changes to a document.
 BIM – Some advanced estimating software suites include BIM (Building Information Modelling). The purpose of BIM is to provide both a high-level overview of the project, as well as critical details, to ensure that the right information is included in the estimate.
 Cost Database – Most estimating software allows you to import your database of supplier costs, which is critical in building an accurate estimate that is suited for your local market.
 Customizable Reports – Management wants to see not only the results of a bid, but how you got there. You can build reports that compare similar projects, subcontractor pricing, typical amounts spent on previous projects vs current, and just about anything else you can imagine.
 Historical Database – Having a database of past projects that you can refer to and learn from is an estimating best practice, especially when you can compare estimated vs actual costs with the job cost report of the project you are comparing your current bid with.
 Project Templates – Pre-built project templates are useful when you are estimating projects that are similar to ones you have completed before. A 50,000 sq. ft. 3-storey CRU may have similar project requirements as a 60,000 sq. ft. 2-storey CRU, and you can save hours of work by reusing the template (with careful consideration of the project's differences).
 Project Workflow & Schedule – Project scheduling is the process of listing tasks, milestones, critical path items, and subcontractor requirements with a planned start and finish date.


Scheduling is often the most critical component of a project where you need to work closely with the operations team to ensure you are setting realistic deadlines and building optimal process flows. Proper scheduling ensures the project is completed on time and within budget.

 Projections & Forecasting – Estimating software helps you improve budgeting and forecasting estimates by aggregating cost requirements, benchmarking, and project forecasting.  Proposal Generation
 Subcontractor Management – During the bidding phase of a project, the GC needs to source a multitude of estimates from subcontractors. The more subcontractors and suppliers you involve in the process, the more risk and exposure the bid gets to failing specifications, inaccurate scope coverage, and inability to perform. Knowing which subcontractors are right for the project (not too large, not too small) is critical to the success of the project.
 Task Management Software – Historical task data can help you with process control and productivity when estimating new projects. When you have a reliable track record of successful estimates and bids, you can build new processes and analyze the historical information to help you create better estimates and more accurately predict resource requirements during the estimating process.
 What-if Analysis – A What-If analysis can be a time-consuming process of creating variations of the original project and analyzing the effects those variations have on the total project cost & construction time.


What-If analysis replaces the painful process of learning by trial and error. If a predictable process or critical path breaks down during construction, the cost to fix, reorganize, or rebuild can carry additional costs and impact the schedule of the project. Using What-If analysis, you can create scenarios in which your operational team can quickly adjust to changes in the construction process or schedule, keeping the project within budget and scheduling requirements.
BIDDING
 Approval Process Control – Estimating software should allow you to customize and control the information each user can see and edit depending on their role in the organization. After the bid is completed, there should be an approval process that triggers it for review and submission to the client.
 Automated Quoting & Proposal Generation – Manual quoting processes are slow and inefficient in today's world. Having a time-consuming quoting process scales poorly with your business, as the time it takes to produce winning bids is increased with each additional estimating hire. Using automation allows you to send out more bids in less time, keep track of incoming requests, and update data.
 Bid Management – Managing the different versions of your bids often includes making revisions to your takeoffs and estimates. Keeping track of changes and how they impact linked tasks helps you modify bids in an optimal way.
 Calendar Management – Everyone needs a calendar to track deadlines, milestones, and submission dates. The integrated bid calendar should show you which projects are due on what date, bid priority in the case of opportunities exceeding the bidding capacity of the estimating department, and tasks remaining until bid completion.
 Contact Management – Contractors submitting multiple bids to different clients will find a contact management system incredibly useful. 
 Customer History – Seeing the past projects that you have bid to a client is useful, especially if the Business Development team has made notes on successful or unsuccessful bids with actionable items that may improve your chances of winning the next bid.
 Customizable Reports – Some estimating software comes with integrated sales features that include useful reporting for operations and BD, such as insights into the sales funnel, characteristics and data on winning bids, and estimated times to complete bids.
 Digital Signature Software – In today's world, people want low-friction and easy-to-use ways of doing business. The old way of printing off documents, taking them to the client, and having them sign is being phased out. Digital signature features often includes add ons such as open-tracking (being notified when your client opens the bid) and use-analysis (how long they had the document open, where they dropped off, where they spent the most time, etc.)
 Projections – Creating projections for the project schedule and budget is essential for the operations team to stay on track and understand how delays and cost-increases impact the project further down the schedule.
 Subcontractor Portal –  A subcontractor portal helps you communicate essential information, share project documents, and manage bid revisions with trades that are invited to bid on the project.
---
The Best Construction Estimating & Takeoff Software
ProEst
PRICING:
US$5,000.00/year
FREE VERSION?: No. Free Trial.
FEATURES:
 Accounting Integration

 Activity Dashboard

 Bid Management

 Bidder Management

 Building Product Database

 Change Order Management

 Collaboration Tools

 Cost Database

 Customizable Reports

 Customizable Templates

 Job Costing Software

 Multiple User Accounts

 Proposal Generation

 Reporting & Statistics

 Subcontractor Management

 Takeoff Software

 Third Party Integrations (Procore, Acumatica, Foundation, RSMeans Data)
PROS:
BOTTOM LINE:
ProEst is a great option for midsize to large contractors. The system is cloud-based. This carries both pros and cons. If you don't have an internet connection, you cannot access the suite. However, you will be able to access it on any computer with internet access, providing great flexibility.
---
PlanSwift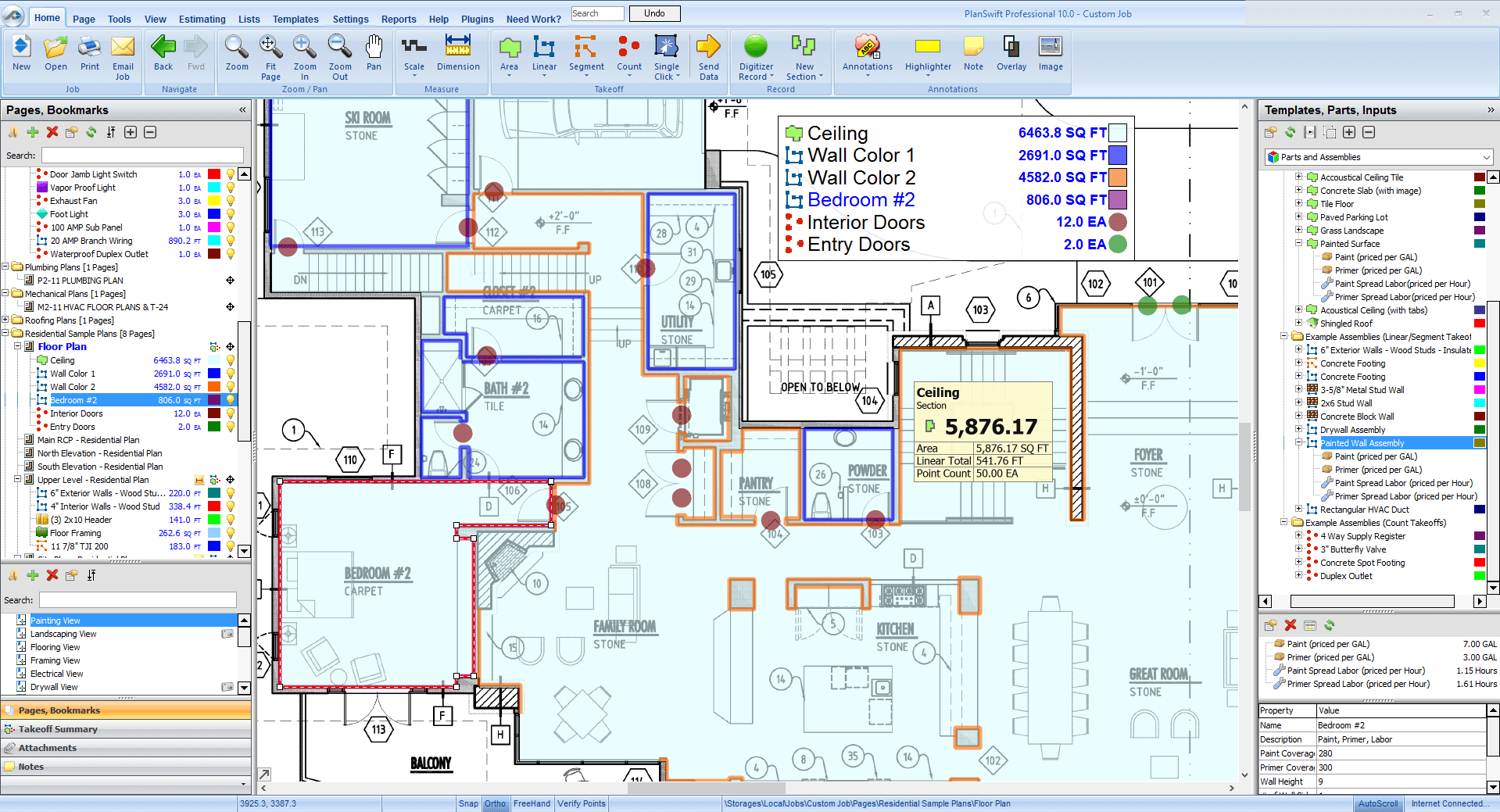 PRICING:
US$1,595.00/year
FREE VERSION?: No. Free Trial.
FEATURES:
Overlays
Quick Estimating
Calculate Measurements Instantly
Create custom assemblies
Import Excel Items
Calculate Labor, Material, & Taxes
Create custom formulas
Includes standard reports
Create unlimited number of custom reports
Takeoff Templates
Assemblies and Parts
Point and Click
Takeoff Templates
Share Estimates
Drag and Drop
Import Blueprints, Projects, and Jobs
Integrations: QuickBooks, UDA Construction Suite, databases like Excel, SQL Server, and MS Access
PROS:
BOTTOM LINE:
PlanSwift is best for smaller teams, where collaborative work features are not required. The software runs on your PC, and stores files locally. PlanSwift can be custom-tailored to fit all trades from finish paint to earthwork.
---
Stack
PRICING:
$1,999.00 / YEAR – 1 User
$4,999.00 / YEAR – 3 Users
FREE VERSION?: Yes.
FEATURES:
Aerial Measurement
Assembly Takeoff
Audit Trail
Bid Management
Building Product Database
Cost Database
Data Import/Export
Electrical Estimating
Electronic Plans
Historical Database
HVAC Estimating
Job Costing
Job Management
Overhead Costs Estimating
Plumbing Estimating
Prebuilt Assembly
Project Management
Quotes/Estimates
Reporting/Analytics
PROS:
BOTTOM LINE:
Stack is a growing company in the SaaS space. They implement new features quickly, have an active online community, and are constantly releasing new versions.
Cloud service is an essential feature for larger teams requiring collaborative tools. The user interface is intuitive and easy to use.
While still in its infancy, Stack is a fantastic tool for estimating teams and is currently our favorite.
CONCLUSION:
The market for construction estimating software is growing at a staggering rate, and there are new options being released frequently.
Many estimating suites come with integrations that allow you to connect to your sales CRM and KPI dashboards. However, most of the options with modern integrations are hosted in the cloud.
To ensure everyone in the organization is in the loop on new projects, you need to ensure there is cross-compatibility with other software suites that may be used for sales and operational processes.
January 2022 - News and updates for Edmonton & Alberta...
Read More
Want To Boost Your Business Today?
We help Canada's commercial and industrial construction companies succeed with expert web design, estimating automation, and sales optimization.